It is bounded on the north by the municipalities of Dodro, Pontecesures and Padrón; Catoira and Caldas de Reis south pole; Cuntis and The Road by this and Dodro Rianxo and the west.
Located on the left of the course under the river Ulla; is crossed by the AP-9, the railway line from Vigo to A Coruña, the N-550 to A Coruña and Pontevedra to C-550 Finisterre Tui.
The northern part occupies the broad valley of the Ulla river flowing in the river and the river Louro Valga that run parallel for part of its route. To the south are two hills, Mount and Mount Xiabre Xesteiras. Roads circulate in the depression formed by these two spurs.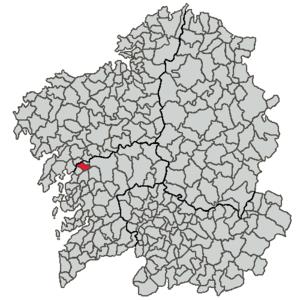 Temperatures are mild, with an average of 12 ° C. The rains are abundant, reaching 1,700 mm. Annual.